Exhibitions are normally held in September covering three weekends
in Burley Village Hall
The pages containg previous exhibitors are not updated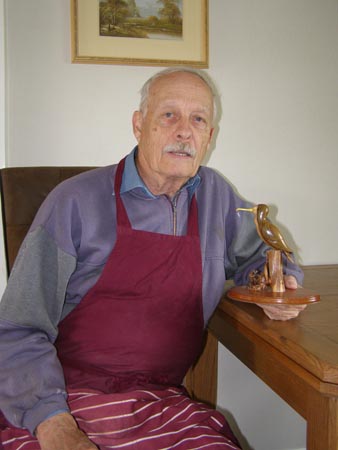 Alan Oade
Tel: 023 808­1 3815
Website: The Woodlanders site
Email: a.oade@tiscali.co.uk

I started carving in 1980 by taking further education classes for a year and I visited as many carving and woodworking exhibitions as I could. It was at various exhibitions that I met a professional woodcarver named Derek George and, after many requests, finally persuaded Derek (in 1982) to give a colleague and myself carving lessons. Derek taught us how to carve using knives instead of chisels and how to cut the timber to get the best colour and grain pattern. In 1984, 1986 and 1987 I won the "Ron Lane Memorial Trophy" with carvings of a humming bird, a fallow deer and a horse respectively. All of my carvings have a wildlife theme. After I had been carving for about 7 or 8 years I joined the "Oaklands Woodcarving Club" as a member and later became a tutor,teaching the "Derek George" method of carving to other members. In recent months I have started making "Native American Style" flutes.


Alan's Carvings
Images open in a new window.
Alan Oade