the woodlanders 31st new forest exhibition
Burley Village Hall
Open Daily 10am - 5pm including Sundays
September 9th to 24th 2023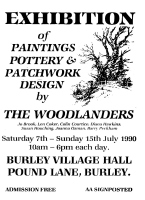 THE WOODLANDERS
A tale of simple country folk
A simple tale of country folk.
Over thirty years ago, in 1990, DIANA HAWKINS and I (SUZAN HOUCHING) came up with the idea of holding an art exhibition in Burley. Diana had lived in the village for many years and I had moved to Burley, with my husband and three children five years previously. Diana and I made friends at Burley Art Club. For our exhibition we invited COLIN COURTICE to join us and then BARRY PECKHAM, LEN COKER, JO BROOK and JOANNA OSMAN came in with us, and THE WOODLANDERS became our chosen name as we all lived in or near 'The Forest'.
THE WOODLANDERS are an unusual group and our exhibition reflects this. We each hang about twenty-three paintings plus cards, prints and unframed work. Our woodcarvers fill the stage with their work. We all demonstrate our individual way of painting during the exhibition. There are usually three or four demonstrating each day. The woodcarvers also demonstrate their art, as do our two potters.
We meet up throughout the year in one of our homes, or to celebrate birthdays and anniversaries. Over the twenty years we've seen children grow and grandchildren arrive and we've shared each others difficult times as well. The Woodlanders have proved to be more than just a group; we're long term friends as well. We've also got to know many visitors over the years who come back to see us.
Our exhibitions are held in support of Diabetes UK, my choice, as I've had 'Type 1' diabetes over forty years, and diabetes affects so many families. Each year we've been able to send approximately five hundred pounds to our local branch of Diabetes UK in Lymington.
We've always had some very interesting 'Openers' for the private view, amongst them Hannah Gordon, Carl Tyler, Charlie Dimmock, Richard Digance, Ian Pepperall, Julian Clegg, Buster Merryfield, Sylv Willoughby, Alina Jenkins, Lawrie McMenemy, Janet Courtice, Sandi Jones, Murray Walker O.B.E., Richard Cartridge, Alina Jenkins, Simon Parkin, Roger Finn, and Dan Tanner.