the woodlanders 31st new forest exhibition
Burley Village Hall
Open Daily 10am - 5pm including Sundays
September 9th to 24th 2023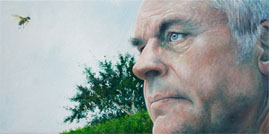 Danny Byrne
Tel: 01425 47­2361
Website: www.dannybyrneonline.co.uk
Email: byrne729@btinternet.com
Daniel Byrne, or Danny, is a local, award winning self-taught artist who developing on his previous extensive experience over 30 years as a professional illustrator, cartoonist and caricaturist, turned his hand to portraiture and figurative paintings over 11 years ago.

During this time his portraits, many of which include prominent local characters in and around the New Forest, and his figurative paintings have been exhibited in a number of established professional organisations including: the Royal Portrait Society, at the Holburne Museum, the Royal Wessex Academy, the Royal Academy and the Royal Oil Institute.

His equestrian paintings and landscapes have also won awards including for Best Painting with the Society for Equestrian Artists at the Mall Galleries, London. More recently a particular accolade includes overwhelmingly being voted with the People's Choice Award at the New Forest Art Exhibition held in Lyndhurst in 2013.
Danny's Paintings
Images open in a new window.
More of Danny's paintings soon.