SEPTEMBER 2022 will see the WOODLANDERS 30th Exhibition.

September 10th until 25th 2022, to be held in Burley at the Village Hall, Pound Lane BH24 4EH.

Sadly last year, our 2020 exhibition was cancelled due to the autumn lockdown, and this year 2021 though we had intended to hold it, for numerous reasons we have decided to wait until 2022 to hold our special 30th exhibition on Saturday September 10th until Sunday September 25th inclusive in Burley.

In spite of the postponement all Woodlanders, including two new potters are working hard individually in their own studios and homes, beit paintings, pottery, woodcraft and jewellery, and have plenty of work to show.

Should you wish to see their lastest work check back here on the Woodlanders website or call 01425 40­2584 and we can put you in touch.



Here's to 2022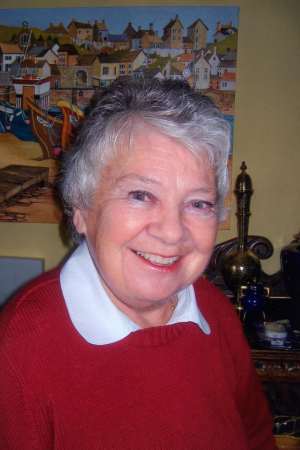 Suzan Houching
Tel: 01425 40­2584

Website: The Woodlanders site.
Email: suzanhouching@me.com

After many years of bringing up a family and running a pub in Dinton, near Salisbury, Suzan moved to Burley in the New Forest and now paints full time. She works mainly in acrylic, enjoying its colour and versatility.
Her subjects are usually people, children and animals more often than not in humorous situations, whether in a pub, at school, on the farm, at the doctor's, sporting events, on a beach - the list is endless.
Suzan is a founder member of THE WOODLANDERS. She belongs to various art groups and societies, both locally and nationally, and in addition to exhibiting with them holds her own one-woman exhibitions from time to time.
Paintings by Suzan have gone all over the world and many titles have been reproduced as cards. She even has the distinction of a work on an Esso Pipeline Calendar and a book cover, and she is proud of the fact that Lord Bath of Longleat has five of her paintings in his private collection at Longleat House. Suzan accepts commissions as she "loves a challenge".
In 2015 Suzan's book 'My Story in Colour' was published and October 2016 saw the publishing of 'Wizzy the Animal Whisperer', a childrens book by Ant Ridgeway and illustrated by Suzan.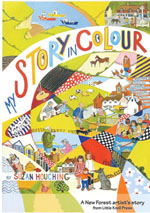 Suzan's Paintings
Use your browser's back button to return here.
More of Suzan's paintings soon.
More of Suzan's paintings soon.